Searching for a Backup-Solution? "Robocopy" is all you need, at least if you are a Windows User. Since Windows Vista it´s already included and there is even a GUI (Graphical User Interface) called "Robocopy GUI". For the daily/weekly Backup it´s easier to create a Batch file that you can call from the Desktop whenever you feel like it.
Just in case you don´t know: A Batch file is just a simple text file with the extension ".bat". Double click on it and every command in the file will get called one by one.
Here´s an example:
@echo off
robocopy "D:\MyFolder" "G:\MyFolder" /MIR /FFT /DST /MT:16
"echo off" suppresses the command itself in the output, the @ sign suppresses "echo off". Just open the command line and try it: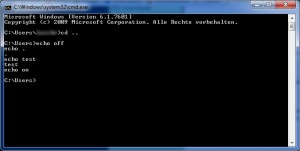 Robocopy can be called with a variety of parameters, the example above is good enough for a simple Backup already. If you want to know all the available parameters, just type "help robocopy" in the command line. This is how it works:
robocopy Source Target [File/Wildcard] [Options]
Parameters in brackets are optional. "File" may be unneccessary for a Backup, you can use it to target specific file extensions only:
robocopy "D:\MyFolder" "G:\MyFolder" *.jpg
The following options are more interesting:
/MIR – Mirrors the whole folder structure
/FFT – FAT-Time, detects differences above 2 seconds (compensates rounding between different file systems)
/DST – "Daylight Saving Time" (considers time differences because of summer time)
/MT:16 – Multithread-Copy (between 1 and 128, default 8)
The option "/MT" exists since the Robocopy version in Windows 7, you can get a nice performance boost with many small files because more files will get copied at the same time.
A big advantage of Robocopy compared to other Backup solutions is the copy speed and the simplicity. It should be easy to create a simple Batch file with one line even if you don´t know how to program (wtf?).