You got a Raspberry PI at home, but you don´t know what to do with it? With some very simple steps, you can turn it into a Gitlab Runner:
Install Gitlab Runner
curl -L https://packages.gitlab.com/install/repositories/runner/gitlab-runner/script.deb.sh | sudo bash
sudo apt-get install gitlab-runner
Get Gitlab Runner Token
Open your project on gitlab.com.
Go to Settings > CI/CD > Runners.
Search for "Set up a specific Runner manually".
Copy the Registration Token.
Start Runner on your Raspberry Pi
The only thing you need to change is "YOUR-TOKEN", that would be the Registration Token you just copied:
sudo gitlab-runner register -n \
    --url https://gitlab.com/ \
    --registration-token YOUR-TOKEN \
    --executor docker \
    --description "Fancy Runner" \
    --docker-image "docker:stable" \
    --docker-privileged
See it in action
You should now see the Runner right where you copied the Registration Token: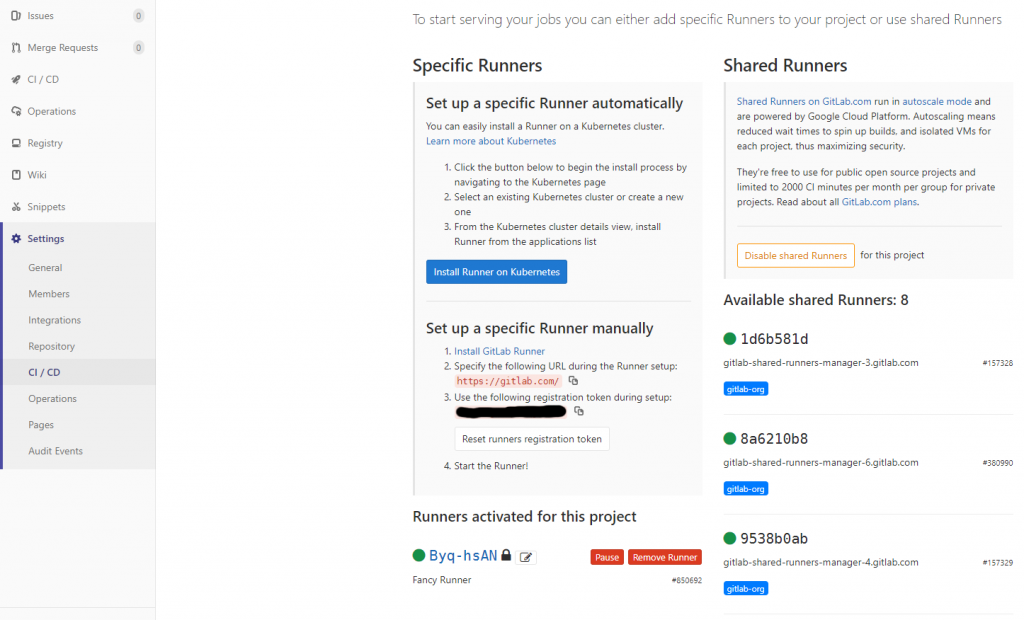 When you start a new pipeline build, your new Runner will pick it up:

Keep your Gitlab Runner up to date
Once in a while, you may want to update your Runner, which is pretty easy:
sudo apt-get update
sudo apt-get upgrade
What else?
The Runner will work even after rebooting your Raspberry Pi.
Docker has to be installed to make this work.
Use "docker stats" to see the Runner stats while he is busy.
The Runner is locked to a specific project by default, but you can change the settings directly on Gitlab and enable it for other Projects too.
The enabled Runner will be used first, Shared Runners will only join if there is more than one job in parallel. You can also disable Shared Runners though.
I suggest using a Raspberry Pi 3 (or newer).
It will be a lot slower than Gitlabs free Shared Runners (with 2000 free build minutes). The same scenario took 10min on a Raspberry Pi 3 instead of 2-3min (Shared Runner). But it´s still fun to have your own Runner on a Raspberry Pi!
If you need a more powerful Runner (maybe with several concurrent builds and stuff), you can use the exact same commands to install it on any Debian/Ubuntu/Mint machine!
You may need to increase the Swapfile if you get any errors.